Free Online
Consult
---
5
mg

Generic
Daily Cialis®

Free 2 day Shipping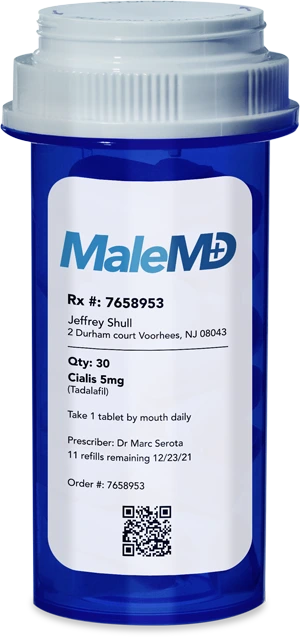 5
mg

Generic Daily Cialis®
---
$3/pill
5mg Daily Generic Cialis is for the guy that's on the go and doesn't want to worry about the right time to stop and pop a blue pill. You'll always be 100% ready to go when the time is right. No more hoping that you've given the pill enough time to work. Now when she's ready, you'll be ready – guaranteed! With daily generic Cialis, you'll be able to keep going….. again and again.
Free Online
Consult
---
50
mg

Generic
Viagra®

Free 2 day Shipping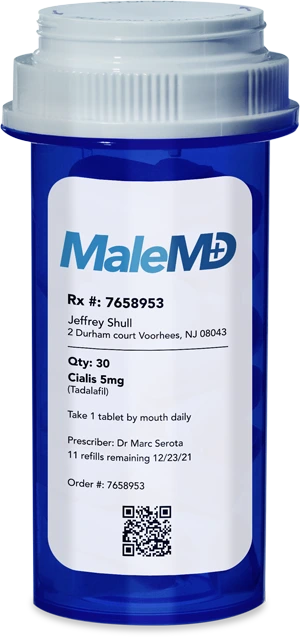 50
mg

Generic Viagra®
---
$9/pill
50mg Generic Viagra works by rapidly increasing blood flow to the penis. Within 30 minutes, you'll have a much fuller, stronger erection and the confidence to perform like a champ. Although not as long lasting as our generic daily Cialis, with our blue pill, you'll still have a full 4 to 6 hours to show your partner the best version of you in bed!
Free Online
Consult
---
20
mg

Generic Cialis®

Free 2 day Shipping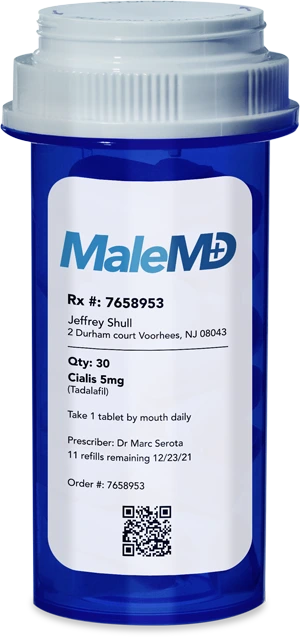 20
mg

Generic Cialis®
---
$9/pill
Tadalafil, the active ingredient in Cialis®, promotes blood flow to the penis, making it easier to get an erection for up to 36 hours after use. Take one on a Friday and be good to go all weekend!
NOT SURE WHICH TO CHOOSE?
Try our FREE E.D. Assessment to find the perfect treatment to fit your individual needs
GET MONTHLY PRICES THAT RISE UP TO THE COMPETITION!
BRAND
30 5mg Generic Daily Cialis®
6 100mg Generic Viagra®
6 20mg Generic Viagra®

$89
$59
$59

$240
$240
$260

$240
$240
N/A
Frequently Asked Questions
What is E.D. and What causes it?
E.D. (Erectile Disfunction) is a significant medical condition that affects nearly 20 million men annually in the United States. ED is characterized by when a man has a hard time achieving an erection or keeping an erection long enough to participate in sexual intercourse with his partner. E.D. is generally significantly more common as we get older, but unfortunately can happen at any age.
Erectile disfunction can be caused by many factors. Some of the more common are uncontrolled diabetes, hypertension, abnormal testosterone, or thyroid hormone levels, and emotional or personal distress.
Beyond just the stress to a relationship and loss of personal confidence, the inability to achieve or keep an erection can be a sign of more significant health issues that need to be quickly addressed. Your MaleMD physician will discreetly and comprehensively review all the answers to your personal questionnaire to help identify any additional health concerns that you may have.
Why should I use MaleMD rather than going to see my doctor?
Let's be honest, making an appointment with your personal doctor can be a real hassle. Often you will wait for weeks just to get in to see them, then you have to have the uncomfortable conversion with them about why you are there for your visit.
MaleMD's Online Telemedicine Service is 100% about convenience, discretion, and ease of use. Our licensed doctors can review the 10-minute medical intake form that you just filled out on your phone and get you started on your treatment, same day. No waiting weeks any longer to get started.
Is it safe to use MaleMD's E.D. Telemedicine service?
All Erectile Disfunction medication is prescribed by a licensed U.S. doctor. As long as you answer all the questions on the questionnaire accurately, our Telemedicine service for E.D. patients is completely safe and easy to use. Just make sure you disclose all medical conditions that you currently have. This is for your protection and safety.
E.D. medication should only be used by men that are healthy enough to participate in sexual activity. Our doctors will closely review all your answers to confirm that you are healthy enough to be prescribed medication to treat your E.D.
Will I need to see a Doctor in person or do a video call?
No, you absolutely will not need to drive to see a doctor, and you will not need to do a video call with one of our doctors. Our U.S. Licensed doctors can prescribe E.D. medication to you just by reviewing your medical questionnaire.
How soon will a doctor review my medical intake form?
A U.S. licensed doctor will review the answers your medical intake form within 2 hours during normal business operations and usually less 24 hours during non-business hours. We know that now that you have made your choice to begin treating your E.D., you're very anxious to get started. We fully understand this and will review your prescription as quickly as possible. Once your prescription has been approved by one of our doctors, and your card has been billed, our pharmacy will ship out your medication to you that same day via USPS First Class Mail.
How long does my E.D. prescription last for with MaleMD?
Your online medical intake form and prescription are good for 12 months once they are approved by one of our Doctors. After 12 months, you will need to answer another short medical questionnaire to receive another prescription to continue receiving E.D. medication from MaleMD.
Does MaleMD take Insurance?
Unfortunately, we do not take insurance, but our "cash" prices are in general, significantly discounted from most other telemedicine providers, plus you have the added benefit of not having to drive in to visit with your local Doctor.
Why do you need to know my blood pressure?
Due to the way Erectile Disfunction medicine works, it is important for our doctors to get clear understanding of your blood pressure and any other significant medical issues. In general, E.D. medication is safe for men with high blood pressure if they are in otherwise good health. E.D medication though is not recommended for men with severe cardiovascular disease, or who have high blood pressure and struggle to urinate. Your safety and health are our primary concern. Providing us with full answers to your medical intake form will allow our doctors to prescribe the right medication for you.
Why can't I take these medications with nitrates or nitroglycerin?
Nitrates and Nitroglycerin are generally prescribed for individuals with heart conditions. Taking E.D. medication in conjunction with nitrates or nitroglycerin can lead to a dangerous drop in blood pressure.
What medications do you prescribe?
We currently prescribe both generic and branded Tadalafil (Cialis) and Sildenafil (Viagra) through a licensed doctor's prescription. Generic Tadalafil is available in both 5mg and 20mg pills, while Cialis is available only in 20mg pills. Both generic Sildenafil and Viagra are available in 50mg and 100mg pills.
What is the difference between generic Tadalafil and Cialis and are they FDA approved?
Tadalafil is the active ingredient in Eli Lilly's branded Cialis. Lilly's patent on Tadalafil expired in 2018, allowing manufacturers licensed by the FDA to produce generic versions of Cialis (Tadalafil). According to the Food and Drug Administration, generic medication offers the same benefits as the branded medication at a significant discount in price. Safety, strength, stability, effectiveness, and quality of the medication are all required by the FDA to reach the same level of standard as that of the branded version. Generic Cialis (Tadalafil) is approved by the FDA.
When will I be billed for my medication?
Your credit card will be billed after one of our Doctors approves your prescription. After your card has been billed, your medication will be shipped by one of our licensed pharmacies via USPS First Class Mail. If you have signed up with one of our recurring medication options, your card will be billed once every 30 days for your new shipment.
I don't want anyone to know I have E.D. Will you ship my medication to my home discreetly?
We understand that dealing with Erectile Disfunction and treating it is an extremely private matter. All shipments from MaleMD come in discreet packaging with no markings suggesting what is in your package.
Get Started Now